In your 
widget editor
, you can find the tab 
Appearance
. Here you define your chat button's look, style, color etc.
Here you can also set up button profiles which allow you to define how pronounced the Website Messenger appears to visitors on your desktop and mobile site. The profiles feature different combination of settings, making them range from less to more pronounced in this order: "Silent", "Low", "Medium", "Full"
An overview of the settings of each button profile: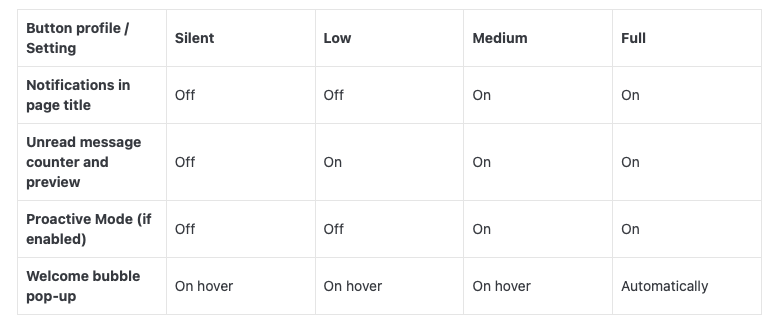 Notifications in page title: Displays notifications for new messages in the page title when the tab containing the Website Messenger is not focused by the contact.
Unread message counter and preview: If the Messenger is minimized, a little counter on the messenger button notifies contacts about unread messages and a bubble shows a preview of the last operator message.
Proactive Mode (if enabled): "Off" means that the proactive mode is suppressed, even if it's enabled under Chat > Behavior > Approach. "On" means it works as expected.
Welcome bubble pop-up: The welcome bubble message you defined under Wording > Conversation > Automated messages appears in a bubble above the messenger button. Depending on the profile, this happens when the contact hovers the mouse cursor over the button or automatically after a few seconds. Please note that the proactive message replaces the welcome bubble message when Proactive Mode is active and not suppressed.