In the Message Center, you will see either a green or a black circle next to your contact's icon. The green circle means that your contact is currently online. The black circle indicates that your contact is not available (anymore). In this case your contact has either left the page or closed the tab or browser.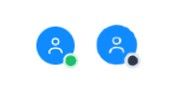 In addition, LIVE conversations, i.e. a conversation where both parties are online and writing at the same time, have an extra label:

Note
Even if your contact is no longer online, you can still continue the conversation offline. If your contact has left their contact details, they will be informed by email as soon as you reply. Otherwise, they will only see the answer when they return to your page and open the chat again.
You activate the contact data query ("Registration" in both online mode and offline mode) in your 
widget editor
 under the tab "Chat >Behavior".
How can I see which channel a chat was started on?
If you have connected different channels (for example WhatsApp, Facebook Messenger, Telegram etc.) to your widget, you can see which channel your contact is contacting you through. Here, the respective channel logo is displayed next to the conversation: