If our system repeatedly fails to deliver an email to you, it will be marked as " unreachable". This may be the case if your mail server is temporarily offline, your inbox is full, or there is a typo in your email address. When this happens, Userlike will warn you in several ways: A warning with an error message appears next to your profile picture in the dashboard. Clicking on the alert text will redirect you to your profile settings:
Additionally, you'll get a notification when the system tries to send an email, but fails.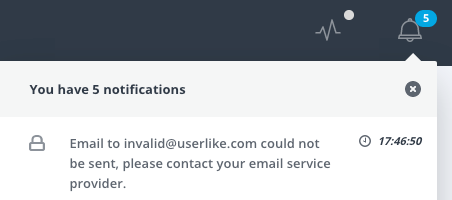 If an invalid email address is stored within your account, this may cause issues within Userlike. To avoid this, we recommend that you promptly correct your email address and ensure that it's reachable. Afterwards, please contact our support via the chat button so we can reset the status of your address.